Continuum excitons can occur in alloyed semiconductors and metals. As distinct from the exciton, where one electron is coupled with one hole, in the continuum exciton one electron is coupled with a continuum of holes in the conductivity band of the p-type semiconductor (Fig.1a and Fig.1b).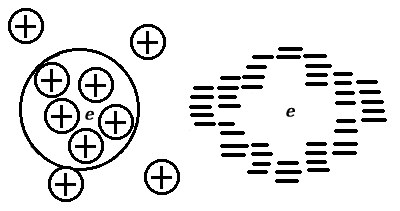 Fig.1a. Continuum exciton in a semiconductor | Fig.1b. Continuum exciton in metal

Accordingly one hole is coupled with a continuum of electrons in a n-type semiconductor. The full charge of the continuum exciton is equal to zero. In phenomenological description of the continuum exciton one can proceed from the full energy functional E ( ):
| | |
| --- | --- |
| (7.1) | |
where
Е
has the form of (5.1) (see );
fe
- is the electron-induced potential;
m
- is the chemical potential of holes.
It follows, that in semiconductors, unlike in electrolytes, the role of positive (negative) ions is played by holes (electrons). Formation of continuum excitons in semiconductors leads to narrowing or the gap and explains the dependence of the gap width on the impurity concentration.
Usual exciton states cannot be realized in metals due to strong screening of the attracting coulomb potential of an electron and a hole. Formation of continuum excitons in metals may be responsible for peculiarities in the X-ray absorption (the so-called boundary singularities). Annihilation of positrons in metals can also be considered as annihilation of a continuum exciton. where a positron plays the role of a hole.